Father baker' s story - early years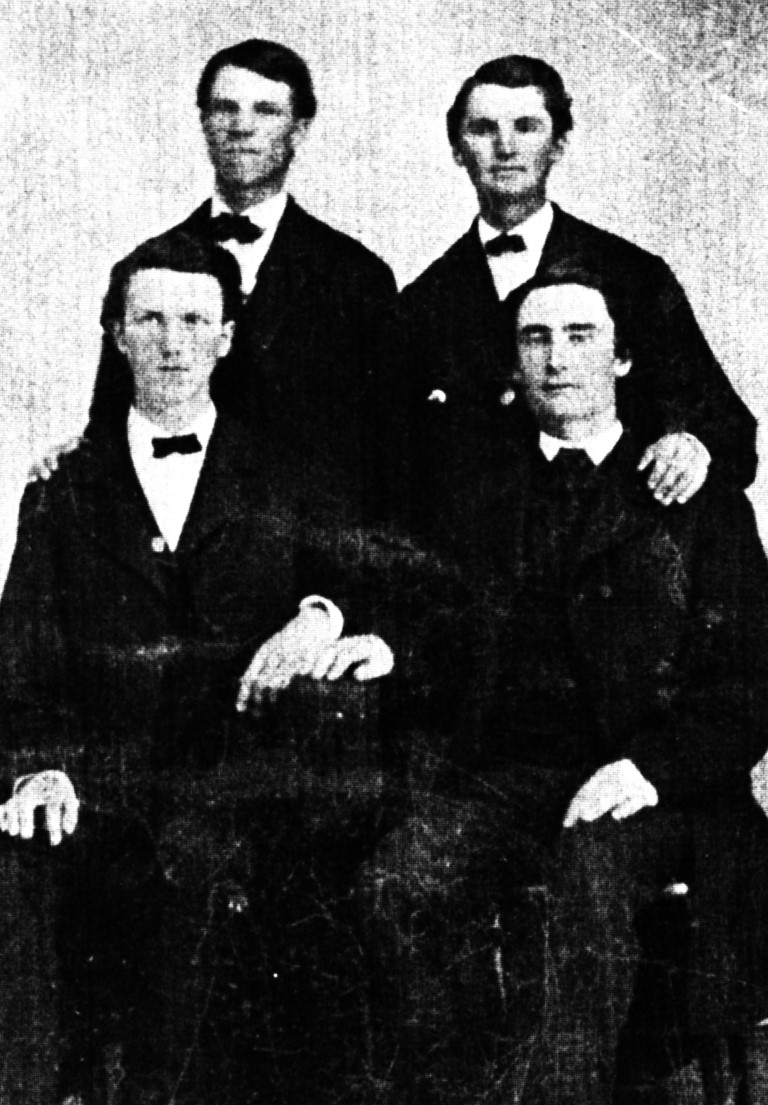 Nelson Henry Baker was born on February 16, 1842. He was the second of four sons born to Lewis and Caroline [in this photo with his brothers, Nelson is in the top row on the right]. At birth, he was baptized in the Lutheran faith, the faith of his father. When Nelson was 10 years old, though, under the spiritual influence of his devout Catholic mother, he was rebaptized in the Catholic Church. As a child, he loved to accompany his mother to Mass.

The family lived in the small, but growing, city of Buffalo, New York. Lewis was a retired mariner who took advantage of the increased commerce that the opening of the Erie Canal brought to the Great Lakes region and became the proprietor of a grocery and general store in Buffalo's downtown. As was customary in those days, the family lived behind the store.

While there is not a lot of official documentation that exists from Nelson's childhood, it seems to have been a happy time for him. After graduating from high school, Nelson joined his father and older brother working in the store. He was bright, good with figures, outgoing, and with a wide range of interests, including athletics, music and drama. His future looked promising.
---
The Civil War
In June 1863, General Robert E. Lee and his Confederate army had moved into southern Pennsylvania. Fearful that it would soon reach New York, the governor called for 20,000 new recruits. On the evening of Nelson's enlistment, he and his fellow recruits were sworn in and boarded the train for Harrisburg, Pa. The regiment, the 74th New York, served with bravery and distinction there, protecting bridges and an aqueduct as the Confederate troops were forced to retreat.

The term of enlistment was only 30 days and the men of the 74th were expected to return to Buffalo in mid-July, but a dire emergency arose in New York City when rioting mobs began to cause havoc. Nelson and his comrades spent two days there, and, together with several other companies of the state militia, were successful in quelling the riots. On July 21, 1863, the members of the 74th Regiment returned to Buffalo.

Once home, Nelson settled into his old routine, working in his father's store. Around that time, his friend Joseph Meyer approached him about starting a feed and grain business with Nelson. He accepted, and Meyer and Baker, a profitable and successful endeavor was born.
---
Hearing the Call
During the years that Nelson ran the business with Joe, he was most generous with his time and money. He was an active member of the Saint Vincent de Paul Society and volunteered as a Sunday school teacher at a local orphanage. He knew that God had been so good to him that he wanted to give back. Becoming a priest had crossed his mind, but he was getting older and he knew that he didn't have the proper schooling to prepare himself for the seminary. Each time the yearning came over him, he dismissed it — but not entirely.

One of the people in his life at this time was Rev. Thomas Hines, the administrator of the Limestone Hill Institutions at which Nelson taught. Father Hines saw the piety and promise in the young man and even promised to recommend Nelson to the Bishop for admission to the diocesan seminary if he decided to pursue a vocation.

For the next year, Nelson worked furiously - helping Joe at the store all day and studying Latin at night. By June, 1869, he was exhausted. To get some needed rest, he embarked upon a steamer excursion around the Great Lakes. At every stop, he earnestly prayed and meditated on the question of what he was to do with his life.

When he returned to Buffalo, his mind was clear. The first person to hear the news was his mother, who confessed that she had prayed secretly for years that he would become a priest.

Joe Meyer was upset about losing his partner, but Nelson already had a solution: his younger brother, Ransom, took over. So it was that on September 2, 1869, Nelson Baker ended one chapter of his life to begin a second one in service to Our Lord.
---
Growing in his Faith
Although he was almost 10 years older than most of his fellow seminarians at Our Lady of the Angels Seminary in Lewiston, N.Y. (the site of the current Niagara University), Nelson fit in admirably. He assumed a leadership role from Day One, starting two extracurricular clubs and throwing himself into his studies.

In November, 1871, Nelson became gravely ill as a leg infection spread throughout his body. After weeks in the hospital, doctors did not expect him to recover. But, after nearly a full year of being sick, his condition slowly improved. Better yet, he was accepted into the major seminary and told to "get his cassock and report to the seminary the first Wednesday in September (of 1872)."
---
A Turning Point
Early in 1874, Nelson read about a pilgrimage to some of the great Catholic shrines of Europe. He approached the seminary rector with the possibility of going (at his own expense) as the representative of his seminary. Permission was granted and Nelson left in May.
A postponed day trip to Lourdes, France, allowed him to spend an extra day in Paris. He found himself in a smaller, more modest church (compared to the others), Notre-Dame-des-Victoires ("Our Lady of Victory"). There, Nelson felt a special tug on his heart during Mass. Although the pilgrims later visited the tombs of the Apostles in Rome, St. Peter's and spent time with the Holy Father in Rome, his mind kept returning to the wonderful shrine in Paris and the possibility of honoring Our Lady in the same way in America.

When he returned home in July 1874, Nelson continued his studies at the seminary. Soon thereafter, Nelson Baker became a priest of God on March 19, 1876 — the feast of St. Joseph — at St. Joseph's Cathedral in downtown Buffalo.