The Father Baker Story - His Legacy
The Dreamer's Grandest Dream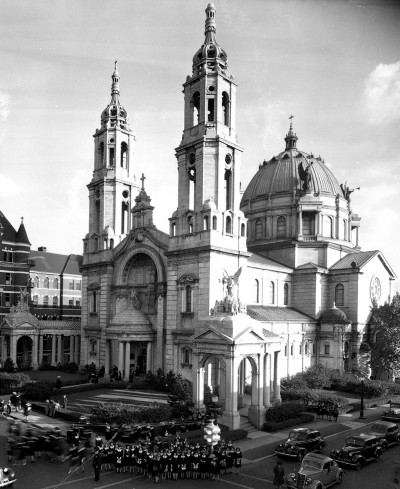 For many years, Father Baker had dreamed of a fitting tribute to his patroness, Our Lady of Victory. His parish had grown, and the church was unable to hold the thousands who flocked to his Masses. Each time he thought he could begin, some emergency arose or a new building project took precedence, and an expansion of the existing church was delayed.

At last, in 1921, when Father Baker was 79 years old, he felt he could begin. The Institutions were running as smoothly as expected and it appeared the time had come. He reached out to a renowned architect, Emile Uhlrich, and a local contractor, Edward Jordan, and plans became to form. To help finance the project, Father Baker turned to his beloved Association of Our Lady of Victory and its charitable members, now numbering in the thousands. In August of that year, Bishop William Turner helped lay the cornerstone. The magnificent church was finally completed by May of 1926, and true to Father Baker's word, not a nickel was owed on it!

Upon the shrine's completion and dedication, the Holy Father, Pope Pius XI, elevated it to the dignity of a basilica in a ceremony held October 3, 1926. At the time, it was one of only two "minor basilicas" in the United States.
Dark Days
The Wall Street Crash of October 1929 ushered in the Great Depression, years that scarred the nation and its people. Thousands were left destitute, hungry and/or homeless. Western New Yorkers were not immune to the suffering. For many of them, though, a hero arose: Father Baker.

Entering his 90s, Father Baker's body began to slow, but his mind was sharp and filled with ways to assist those in need. Those records that have been left behind from that era tell a story of a bustling "City of Charity" that did more good than could be imagined. Diocesan records from the first three years of the 1930s, estimated that the Father Baker's Institutions had served more than 450,000 meals during these dark days.

Gentle Death of a Saintly Priest
Eventually, age caught up with the man who was dubbed the "Padre of the Poor" by local newspapers. His health had deteriorated during the first part of 1936, but his mind remained alert until he finally lapsed into a coma on July 29. He breathed his last that morning while being blessed by Father Joseph A. Burke, an orphan raised by Father Baker himself, who would later go on to become bishop of Buffalo.

Father Baker's 60 years in the priesthood were spent sheltering the homeless, feeding the hungry, caring for the sick and giving hope to the destitute. His legacy lives on today as OLV Charities and OLV Human Services, which provide many of the same kinds of charitable services Father Baker began decades ago.


The Cause for Canonization

In 1987, Father Baker's Cause for Canonization began when he was named a "Servant of God" by the Vatican. In 1998, the Congregation for the Causes of Saints in Rome recommended that his remains be moved into the basilica from nearby Holy Cross Cemetery. The next year, on March 10, his coffin was unearthed and re-interred in the church.

On January 14, 2011, Pope Benedict XVI named him Venerable Nelson Baker. Those connected to his cause remain in close contact with Vatican officials and believe that someday soon Father Baker will be named Blessed.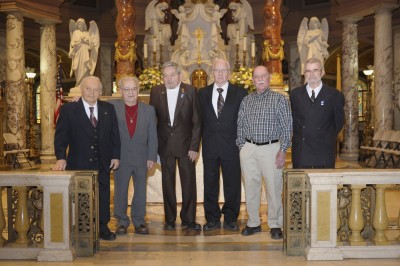 The "Baker Boys"